Saree is considered to be one of the most popular traditional garments appropriate for special occasions like wedding. Though you have several things such as jewelry, accessories, footwear and handbags to complement your dress and look, you can achieve the stunning look only with a proper hairstyle. In order to look more beautiful and classical, choosing a perfect hairstyle is extremely important for any bride. We have come up with 10 best hairstyles for wedding sarees.
Kerala Wedding Hairstyles
Please Click << Back or Next >> below the photo to see More Photos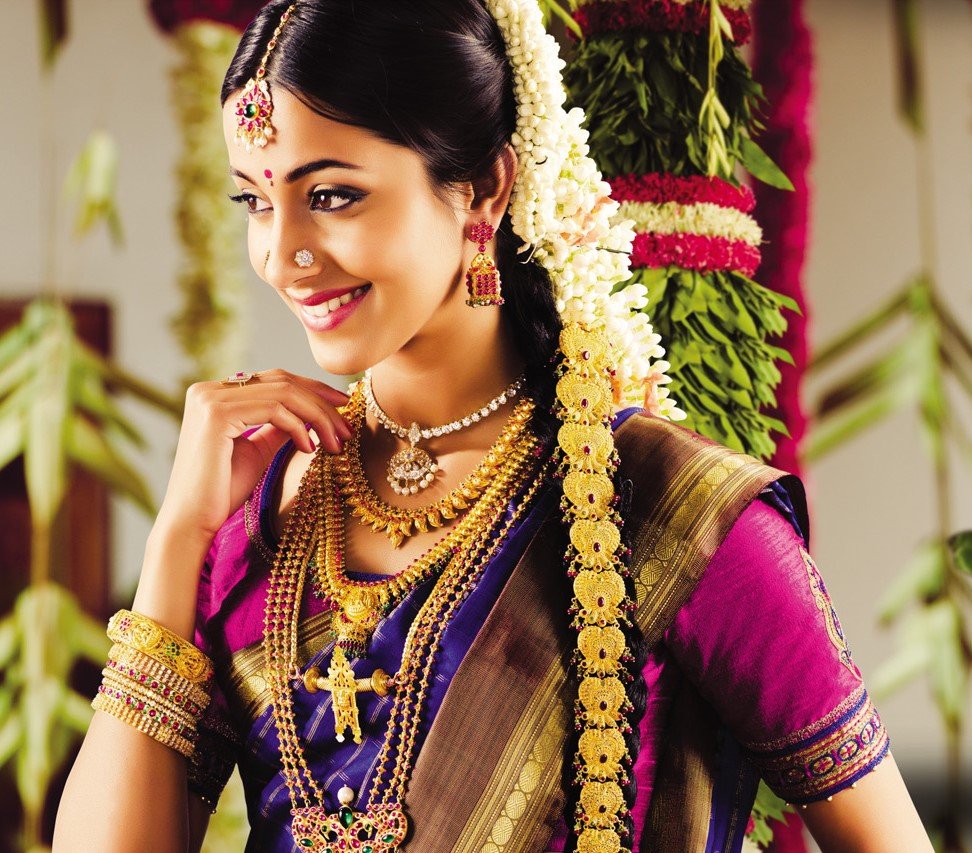 Bun With Flowers
Chignons or classic buns are ideal for wedding occasion or traditional event. Buns are known to create the decent look and traditional appearance. The beautifully done low bun made almost at the low end of the neck, adorned with stunning flowers is really an ideal one for any Indian diva with a traditional wedding saree.
Plait With Flowers
This kind of hairstyle is extremely simple ye look gorgeous when teamed up with sarees. There are numerous options available for embellishing this braided hairstyle to look stunning with sarees. Either flowers or golden color hair accessories can be used to decorate the hair. The plait can be embellished in different varieties to make it suitable for conventional silk sarees. This specific hairstyle is appropriate for brides with long thick hair but brides with short or medium hair can use wigs to extend the length of the hair.
Side Swept Curls
The side swept curls is a kind of hairstyle that looks great together with classic Indian wedding sarees. All you need is to furl your hair with the help of curling rod and then sweep the hair to one side and secure it with bobby pins and other hair accessories. This hairdo can be completed by using medium hairspray. The length of the hair should reach the shoulders. You can enhance the look by wearing large jhumkas which goes well with the hair style.
Fishtail Braid
This is one of the most popular choices for modern brides. Whether you are wearing silk sarees or designer sarees, this hairstyle gives you a trendy look on your wedding. This is usually done in different varieties based on the look you want to acquire. Of course, you need some practice to come up with this hairstyle in an elegant manner.
Side Braid
This is another classic hairstyle which never loses its fame. You have to brush your hair to any specific side of your choice and then braid it as per your desire. You can even try out a new type of braid to change your regular look. There are lots and lots of options to choose from and they include French braids, butch braids and fishtail braids.
Loose Waves
Loose curls or waves give your hair a bouncy and voluminous look. You can also approach a stylist to cut your hairs in different layers to attain voluminous waves and curls. When you pair up this hairstyle with traditional sarees, you will definitely look more attractive and glamorous. This hairstyle looks good for brides with long hair. Once you curl the hair, its length will be reduced to a certain amount.
Puffed Bun
This is another hairstyle that goes well with silk sarees. In fact, the brides can get princess like look with this style. It can offer you a rich appearance not only for weddings but also for the engagement, reception and mehendi ceremonies. You can create this kind of hairstyle simply by puffing your hair in the front and then comb out your hair to get a neat look. Later on, you can use hairspray to settle down the small hairs for longer time.