Celebrities always choose exotic and marvelous places to exchange their vows. It does not matter if they have to fly thousands of miles, as long as at the end they will have their dream wedding everyone will remember for a long time. Italy, Spain, France, England, and Australia, are just some of the fantastic countries celebrities chose to be the landmark of the most beautiful day of their lives. If you also have the aspiration to tie the knot in some of the most fabulous countries, we have perfect suggestions.
Brad Pitt Angelina Jolie Wedding Photo
Please Click << Back or Next >> below the photo to see More Photos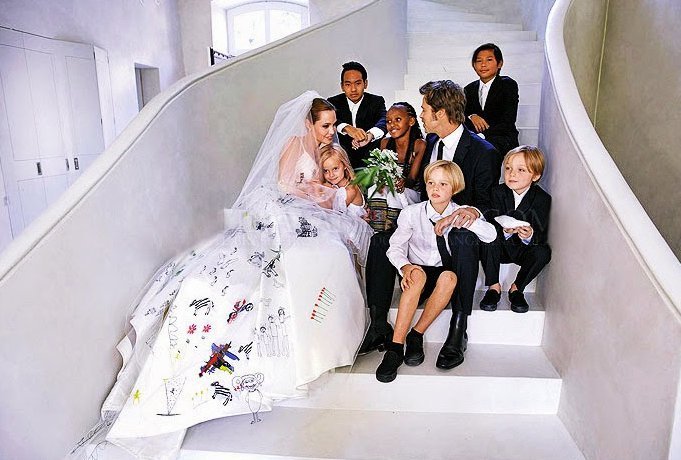 The Royal Wedding
The wedding of Prince William and the Duchess of Cambridge was truly а spectacular event that was watched by almost two billion people. No wonder that was the case, considering it was once in a lifetime happening and the ceremony was performed at the Westminster Abbey in London. Certainly, you could not have the qualifications to have your wedding there, but the great alternative if you wish for an English wedding would be the Winchester Cathedral, about an hour drive from London.
Wedding in Ireland
David and Victoria Beckham chose Luttrellstown Castle in Dublin for the place of their wedding ceremony. Thanks to its timeless elegance and serene landscape, this castle is highly popular venue for many posh weddings. Every wedding celebration in this castle will most certainly be unforgettable. Furthermore, Ireland has various other castles, should you chose this country for your wedding day. Therefore, you can pick Ballyseede, Cabra, Dromoland, or Ashford Castle, and have the unique venue for the happiest day of your life.
An Island Ceremony
Tropical islands are another destination where many celebrities decide to exchange their vows. Ben Affleck and Jennifer Garner had their wedding at Parrot Cay Resort on Turks and Caicos Islands. This was the safest place for them to have a journalist-free time and made sure the notorious paparazzi were nowhere near the idyllic atmosphere. Furthermore, Parrot Cay Resort is also the fabulous place for honeymoon, so feel free to book more than couple of days at this exotic place. Turks and Caicos also offers many other unspoiled beaches that are perfect for a wedding ceremony. What is more, aside from Parrot Cay Resort, this island offers various others resorts where you can say, "I do," such as Alexandra Resort and Tuscany Resort. The choice is all yours.
Tying the Knot in the Land Down Under
Cardinal Cerretti Memorial Chapel in Sydney was the place Nicole Kidman and Keith urban decided to get married at. It is the perfect place for weddings, with the most beautiful view on Manly beach. Aside from this chapel Australia offers many other wedding places including waterfront wedding venues in Sydney. Choose some of these fabulous venues and have the wedding you will remember for the rest of your life.
French Style Wedding
It seems as if American celebrities are all big fans of European destinations when it comes to wedding venues. After so many years of inception, Brad Pitt and Angelina Jolie vowed to eternal love at 1,200-acre estate in France. Chateau Miraval in the village of Correns in France was also the paparazzi-free estate perfect for romantic ceremony they had with all of their close friends and family. Considering they own the property, it is not possible to book it for other ceremonies, but the perfect alternative can be Chateau Val Joanis that offers great vineyards, courtyards and gardens you can enjoy.
Ireland, England, or exotic islands, no matter what place you choose, the wedding is ought to be unforgettable. All of the destinations offer a range of different possibilities, and no matter which you choose, you will definitely not regret it.