Bangles are regarded as the basic embellishments and without it, the brides cannot get the complete look. Whether it is engagement, mehendi, sangeet, wedding or reception, wearing special kinds of bangles is preferred by every bride. In fact, it is also a custom to wear handful of bangles during wedding celebrations. The brides choose to wear silver crystal bangles, gold bangles, kundan bangles or glass bangles based on their wedding outfit. Glass bangles are really delicate and are amazing with their exclusive designs. They are available in different forms including rhinestones, beads and crystals in shimmering glitter and vibrant color. These glass bangles are really impressive and are worth wearing on your wedding day.
Moreover, these glass bangles are known for their traditional significance and are being worn from ancient times to modern times for enhancing the fascinating grace of bridal beauty. Their amazing designs and opulent embellishments are incredibly attractive. In order to increase the pleasing elegance of Kerala brides, these bangles are certainly the best bet. We have come up with some of the excellent designs of glass bangles in striking colors which are optimal for modish brides. Let us start exploring the superb magnificence of glass bangles for Kerala brides.
Red Color Glass Bangles
These red color glass bangles look really awesome for Kerala brides. Red is regarded as the conventional color and has been the significant part of bridal outfit. During wedding, every bride prefers wearing outfits and jewelry accessories in vibrant red colors. These red bangles with amazing designs and contrast white color borders are superbly excellent. With inspiring contrasted elegance and opulent embellishments, these bangles are fetchingly grace. You can avail marvelous look with these glass bangles.
Rhinestone Bridal Glass Bangles
These striking rhinestone bangles look excellent with any wedding outfit. If you choose to wear wedding gowns, you can go with white color rhinestone bridal glass bangles. On the other hand, if you wear kerala kasavu sarees, you can choose to wear yellow rhinestone bangles. However, both these bangle sets are exclusively fabulous with inspiring adornments. You will find that these fascinating glass bangles are embellished with tiny stones and rhinestones that go well with your bridal outfit. These bangles are an appropriate choice for mehendi and sangeet function.
Colorful Glass Bangles For Mehndi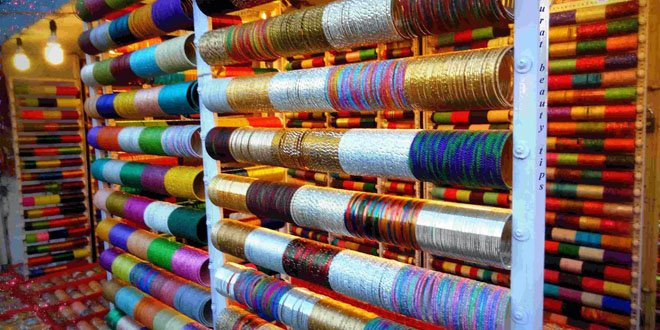 These colorful glass bangles are an optimal choice for kerala brides who want to stay unique from others. These are an awesome choice for mehendi function as the brides can fetch grace with its impressive colors and charming designs. Modish girls who prefer wearing lehengas for reception can also enhance their sensational elegance with these colorful glass bangles.
Rhinestone Multi-Color Bangles
These multicolor rhinestone bangles are confined for charming brides who want to look classy and modish in the meantime. The shimmering rhinestones in attractive colors enhance the appealing nature of the bride by creating evocative loveliness. If you opt for multi-color designer sarees or lehengas, just pick up this multicolor bangle set.
Seed Beads Colorful Bangles
These bangles are highly excellent and charming in their striking beauty. When you just look at these seed beads bangles, you will understand that they make you look stunning attain impressive beauty on pairing them with the right outfit. Even they seemed to be simple they enhance your personality and have a great impact on your look and gorgeousness.
Bangles are an important accessory which is embellished with pretty, colorful stones and fabulous designs. With the beautiful pair of glass bangles, you could look opulent on your wedding day. Glass bangles in distinctive designs bestow charming impression and renders fascination look on your special day.