Earlier, there was only one hairstyle option available for Kerala wedding saree. 3 strands braid with a string of flowers was the only hairstyle done to a bride. But, the modern Kerala brides are looking out for something innovative in every aspect of the look. This has given rise to the need for coming up with elaborate hairstyles for the Kerala Bride. Apart from hairstyles, utmost consideration must also be given to choose hair accessories such as decorative bands, maang tikkas, etc. We have come up with a list of different hairstyles that match well with Kerala wedding sarees.
Typical Long Braid for Kerala Wedding Saree
A simple long braid has been the typical hairstyle for generations as it is the only hairstyle that can be made and decorated easily. Several embellishments to the hairstyle for wedding sarees can be easily made. You can use hair accessories such as wig, hair pins and bands or use flowers for decorating the hairstyle. This long braid can be modified and you can try rope braids, fishtail side braids or French braid for Kerala wedding sarees. It is also worth trying a twofer hairstyle by placing a bun at the base of the head and then extending it to a long braid using hair extension.
Chignon Hairstyles for Kerala Wedding Saree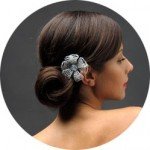 Chignons are nothing but the hair buns which are done near the base of the neck. This particular hairstyle is popular among those Kerala brides who want to take saree pallu or dupatta over the head. You can find Kerala Christian brides opting for this kind of hairstyles on their wedding. Usually, this hairstyle is adorned with beads, flowers and jeweled pins. It is also the best choice for pre wedding ceremonies and reception.
Flower Hair Style for Kerala Wedding Saree
Flowers are the simplest and the most affordable hair accessories for any bride. You can use a strand of flowers to wrap around the braid or use a bunch of flowers to adorn the hairstyle. Rose and strands of Jasmine are usually used for decorating this wedding hairstyle, but other kinds of flowers such as orchids and readymade flower-like accessories are also abundantly used.
Kerala Wedding Saree Hairstyle with Central Parting
Kerala brides have minimalistic take on the wedding look. The saree style looks perfect with heavy necklaces and cummerbund but to achieve a perfect look, coming up with the best hairstyle is extremely important. Most of the Kerala brides prefer wearing Kasavu Saree on their wedding. The only hairstyle that goes well with this saree is a 3 strand braid with central partition. The central partition is the perfect position for placing Maang Tikka. Jasmine flowers are used for adorning the long braid and many gold toned accessories are also used for embellishments. The decorative hairpins are carefully placed to obtain the optimal look of the Kerala bride.
Rope Braid Hairstyle Kerala Wedding Saree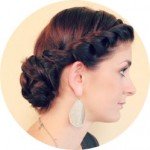 Simply adhering to 3 strands braid has gone out of the fashion. It is the perfect time to try easy rope braid hairstyle for wedding sarees. With this hairstyle, the bride definitely looks stunning enough with the georgette saree and minimal jewelry. So, the hairdo is kept very simple. It is very easy to do rope braid. All you need is to divide your long hair into two sections and then wrap the each partition over other. Then you need to tie up with tight elastic in order to keep the twist in the place. The base of the braid should be tied with elastic band and maang tikka with extensions can be used as statement jewelry on the forehead.