So, you are going to get married- congratulations! Undoubtedly, you will be excited, nervous and apprehensive. It is the perfect time to determine the critical elements of your special day- Wedding Trends. Integrating a wide range of elements that facilitate you to organize a successful Kerala wedding is extremely crucial. We have come up with the list of hot trends that enables you to celebrate your wedding in a trendy manner.
Woodland Wedding
This is a big wedding theme that looks natural and rustic with the right glam accents. The centerpieces would be green and branchy with a lot of attractive flowers and a pop of sparkling with faux fur over the table. When it comes to outfits, wearing long wedding gowns and veils with floral embellishments and ethereal lace will be optimal. You can also add touch to your outfit by wearing flower crowns made with small dainty flowers and branches. You can consider using white flowers and green leaves to décor off the stage to make your guests feel like being very close to Mother Nature.
Bright and Colorful Ambiance
Gone are those days when all-white weddings were so popular among people. Today, big explosions of bright hues have come back for weddings. Though it is not necessary to use all colors that can be seen in the rainbow, you can take the muted and neutral palette like ivories, whites and metallic gold and add bright colors like tangerine, indigo blue and poppy red. This can be done by using bright colored flowers in décor, creating incredible wedding cake with colorful sugar flowers and hanging up curtains in mesmerizing colors.
All-Night Wedding Party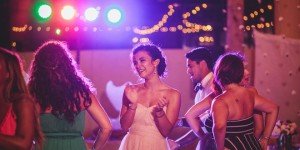 Having a late night party is the right option for weddings where there is a list of elderly family members and guests, college buddies and friends. To make a smooth transition, you can make arrangements for cutting the cake, tossing the flower bouquet and taking care of other special elements to make your wedding so graceful. It is also worth changing up the style and arranging the party in an alternative venue. Bachelor and bachelorette parties can be replaced with all night wedding party.
Floral Wedding Decor
Flowers play a vital role in wedding arrangements and they are getting very serious upgrades as well. During your wedding celebration, you can consider having oversized cataract bridal bouquet and extensive flower installations hanging over the floor, fresh flower ceremony arches, floral arrangement on the dining table and seating arrangements and cake canopy decked with attractive flowers. You need not have to spend a great deal of cash to get the inspiring look to your wedding. Just with color and attractive flowers, you can transform the entire look of the venue like a palace.
Paper and Origami Theme
This wedding theme idea has been around us for generations and is set up for impressing the kids. It is also an economical option for indoor wedding décor. You can replace real flowers with paper flowers on the dining table and hang origami cranes in bright colors from trees to create an ideal backdrop for the photo booth. Hanging big floral fringed streamers on the wall is also a good idea to create an excellent backdrop for Kerala wedding photo booth.